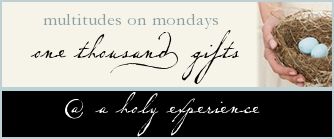 This week went super fast....
We seem to be adjusting more and more to our new home.
The Lord has blessed us in so many areas. We spend much more time together as a family because we are not as busy outside of the home. Before we moved, we would often be out of the house almost every night of the week because of different ministries that both my husband, myself and even my teenage boy were in. Now, because of change, the Lord has slowed us down. I am so thankful for that!
Please, don't get me wrong, I know we are supposed to serve. But, my first ministry is my husband and children. So many times, I would shove food down the kids mouth, kiss my husband quickly on the cheek and run out the door. Not seeing him all day and then all night! Our priorities got a little out of whack. We were spinning our wheels.....
I have heard an acronym about being busy. BUSY stands for Being Under Satan's Yoke.
This all to say....
We will serve again in some ministry in the future.... only by the Lord's guidance. I have learned my lesson. I will not be out of control and do too many all at the same time.
The pictures above are from a trail we go to on Fridays. I run on the trail and my kids tag along with their bikes. My boy goes much faster and ends up doing 6 miles while my girlie girl and myself do 3.
I love this trail... It is mainly flat, so no hills! And I love that we do this together!
Continuing with my count to 1000 Gifts....
266. The trail....
267. My kids getting exercise with me.
268. The sunshine.
269. Simple Sunday afternoons.
270. New friends invited us for dinner.
271. Great conversations and a blessed evening : )
272. New friends for my kids that are strong in the Lord.
273. Monday mornings... fresh week.
274. New chair for my bedroom.
275. Completing some things on my to do list.
276. Framed art work.
277. Time last week with my friend Chris and her sweet girls.
278. Looking forward to Sally Clarkson's conference at the end of the week.
279. Finishing up the book of Hebrews with my kiddos and starting Ephesians.
280. Time with my sweet family.
Many Blessings,
Kim