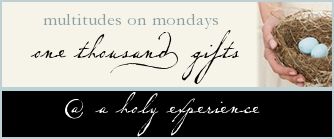 236. A New Year!
237. A cleaned out filing cabinet...
238. Starting back to school and getting back on schedule...
239. A winner in our house this week : )
240. Remembering my blessings in my children....
241. A new grand baby coming next week... anticipation!
242. Back on track with my running...
243. Time in God's word with my kiddos...
244. Finishing a GREAT book!
245. Getting my home back in order...putting all the decorations away...
Always remember to count your blessings! It is so easy to be so busy and to forget what the Lord has done.
Give thanks to the L

ord

and proclaim his greatness.
Let the whole world know what he has done.
1 Chronicles 16:8 NLT
Many Blessings,
Kim