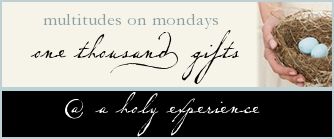 What a weekend! God is so Good and Worthy to be Praised! I was blessed enough to be able to attend a "Mom Heart Conference" put on by Sally Clarkson and her family. It was such a wonderful time of fellowship with other moms and some of my sweet friends. The Lord has used Sally and her husband Clay to minister to moms and families for about 25 years. She has written books about capturing your children's hearts and minds for Christ. She also has home schooled all four children and just finished up her last one this past year. She has done a beautiful job and now gets to enjoy the fruit of her labor. What an encouragement! She speaks about taking every opportunity you have with your children and to use it to mold and shape their hearts. To not take for granted the time you have with them.
I am so encouraged by this woman! She is wise and gifted in teaching. Please, moms, if you have a opportunity to attend one of her conferences, do it! You will not be disappointed!
Counting my gifts.....
281. Fellowship with sweet friends...
282. Sally Clarkson's teaching
283. Nuggets the Lord showed me over the weekend...
284. God's love...
285. Having the opportunity to show my children Jesus!
286. Time well spent...
287. Refreshed and renewed...
288. New resolve to finish well...
289. Thankful for the opportunity to attend...
290. Excited for new possibilities to minister to my kids and husband.
291. New books : )
292. Soooo thankful for my children.... I know I have said that before but I need to remember what blessings they are...
I press on toward the goal for the prize of the upward call of God in Christ Jesus. Phillipians 3:14
Many Blessings,
Kim