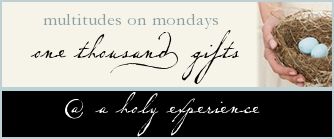 I started this last year and got busy and put it on the back burner. I decided that I need to be more thankful for the many blessings I have so I decide to pick this back up and start blogging all the things the Lord has blessed me with.
I will start at number 23....
Trying to get to 1000....
I will be posting every Monday and linking up with "Holy Experience."
23. My husband patience.... I might add that lately he has had to deal with a lot of my emotions up and down.. :)
24. My beautiful home...
25. My tall, good looking son that loves Jesus!
26. My blond girlie girl who also loves Jesus!
27. My sweet dogs that do nothing all day :)
28. My sweet friends.
29. My running shoes.
30. My friend that now kicks my butt on runs.
31. Sweet music that I can rock out to on the long runs.
32. Stay at home days... not sure when that happens, but when they do I will be thankful :)
33. My sweet grandson that visits often.
Many Blessings,
Kim