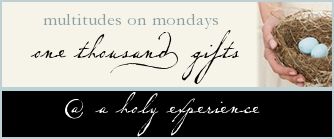 Well, I am almost done with Ann Voskamp's book "One Thousand Gifts." It is not a book that you can plow through... So, when I have time to really study and concentrate, I read it. It has so many nuggets...
This week, while reading, some of my favorite nuggets were "I am a flame that lights other flames." If you really think about it... it kind of makes you think about how your flame is. Is it bright and shining? Or is it dull and ready to go out? The only way to have a bright flame is to stand close to the source of the light... and that is Jesus! Dig deep into his word, study who He is. Do you really know the man/God Jesus?? How does He act? Who did He hang around? That is who I want to be like...
The other quote from her book that really hit home is "I am Blessed so I can Bless!! Really, that quote says it all. How have you blessed someone this week, day or month? I am really trying to look outside of my comfy world and love on people who may make me a little uncomfortable. Why? Because "I am Blessed and I want to Bless others!"
Still counting the gifts....
462. Great study/Quiet time in the word...
463. Two days with Grand babies...
464. Time alone with Hubby...
465. Yellow Leaf Cupcakes!
466. Weather...
467. Change in Seasons...
468. Veggie Pizza...
469. Time to think and ponder..
470. "I am the flame that lights other flames" Ann Voskamp...
471. Rain...
472. My hubby's job that allows me to go with him on business trips... when I can get away : )
473. Beautiful Faces...
474. New purse...
475. Time with old friends..
476. Time with family...
477. Passing out tracks and candy to trick or treaters...
478. Movie night...
479. Fun rides at Magic Mountain for homeschool students...
480. A house packed full of teens...
481. A new dishwasher!
482. A day of rest...
483. A great run....
484. Almost done with a great book...
485. Seeing some growth in my boy through a tough situation...
Blessings,
Kim