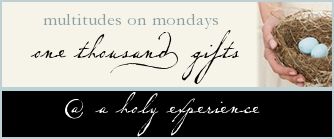 124. The tomb is empty... and He is alive...
125. He lives in my heart...
126. About 80 souls over the weekend putting their trust in Jesus!
127. A day off of school....
128. Still in my pajamas at noon....
129. Quiet around the house....
130. Nothing to do outside of my home....I have lots to do in it... pick up the mess from the last weeks of not being home....but it can wait...I am exhausted....
131. Being used by Jesus even when I think I have nothing else to give....
132. Six years of being involved with the Passion Play at my church. So blessed to be able to experience the last three days of Jesus' life over and over. My girlie girl was only 5 and my boy 10 when we started.... they have grown up with this...and it will be our last year... bitter sweet...
Blessings,
Kim