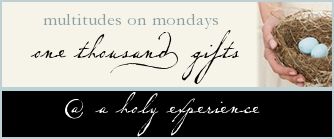 It has been awhile since I did a 1000 gifts post. I have been writing them down but not blogging them. The reason I do this is to remind myself, in the midst of daily life, how much I am blessed by my Jesus. I never want to forget what He has done for me and is still doing in my life.
With that...
I am still counting...
521. Happy to be home and back on track...
522. My dad is improving from his hip surgery...
523. My kids are back on a school schedule..
524. Seeing the light at the end of the tunnel for my Senior boy!
525. Diligence pays off...
526. College acceptance letters : /
527. Great time with friends last week on the beach..
528. Surprising my boy with a clean room : )
529. His best buddy turning 18 and him being able to be there...
530. Life long friends for my boy and for me...
531. Oh!
532. That is for my friend Denise...
533. Getting involved at church... not too involved though...
534. Holy Spirit guiding our decisions...
535. My husbands love for his Savior!
Many Blessings,
Kim