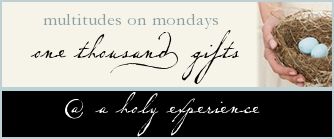 401. Time at the beach with friends...
402. America! Land of the Free!
403. My girl coming home from camp safe and happy.
404. Celebrations with my boy and my hubby on the 4th.
405. Encouragement from my girl Denise to get out and run today. I did not want to... but I did!
406. My boy leaving again to help out his grandpa (my daddy).
407. Thankful for that we are getting settled in our new town.
408. Lots of stuff to do here...
409. Thankful for the up and coming home school convention. Excited!
410. For sanctification through God's word...
Blessings,
Kim