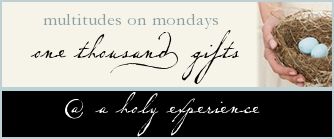 For This Child I Prayed....
1 Samuel 1:27 I prayed for this child, and the Lord has granted me what I asked for.
My sweet boy turned 17 last week! It has taken me all week to get a post up about his birthday. We were able to go home to visit family but first we took him out to eat at a yummy italian restaurant. We then headed home for a family visit and then off to the mountains for the closing ski weekend. That is what he wanted for his birthday. Time with family, friends and a day snowboarding.
My boy was a baby a minute ago. No kidding...
He is my answer to prayers... Many, many many prayers... I need to always remember that....
My Jesus blessed me with this sweet boy and I never want to forget what He did!
My boy is not only handsome, strong, smart as all get out, but most important he loves the Lord! I am so blessed to be able to see him turn into a man of God.
God is so good to me!
371. My answered prayer....
372. My Jesus hears my prayers....
373. My boy loves Jesus!
374. I have been so blessed to see him grow into a man...
375. My Jesus cares...
376. Time with my family...
377. Seventeen candles...
378. Oh, and I got to see my sweet grand baby!
Blessings,
Kim