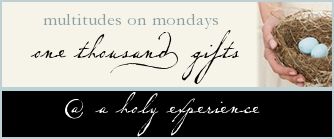 What a lovely weekend we had. We were able to head for the beach and enjoy the sunshine. We had awesome weather, about 75 degrees. Got to hang out with my great friend and her kiddos. Then my boy and I went to a Christian Rock concert. Yes, just my 16 year old and I. No one else! Well, not counting the 5000 other people. It was a great night. We saw about 10 groups including Tenth Ave. North, Hawk Nelson, Side Walk Prophets and Mercy Me. It was a great time of singing and rocking out, but the most exciting part was hanging out with my boy. I LOVE TO SEE HIM WORSHIP JESUS! It does this mommy's heart so much good!
Counting the gifts....
330. My boy worshipping Jesus!
331. Hanging out with him....
332. Enjoying the time alone with him, and if I listen close, he will tell me his heart....
333. My boy has few words and I have MANY so I have to learn to be quiet and listen. Thankful for listening...
334. Beautiful weather...
335. Time with my sweet friend Chris...
336. On the beach....
337. I love the beach...
338. Sweet new relationships for both of my kids....
339. My new friends...
340. And of course my OLD friends....love you Denise : ) I knew I had to give you a shout out!
Sing to Him, sing praises to Him; meditate on and talk of all His wondrous works and devoutly praise them!
1 Chronicles 16: 9
Many Blessings,
Kim