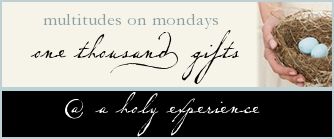 The Lord has been working me through some of my feelings of late. On Saturday, I was invited to a Women's Brunch from one of the churches that we have tried. It was very nice and intimate and the ladies were very welcoming and loving. The Lord used this time to gently show me some of my ungratefulness and unthankfulness. So quick can our thoughts turn from thankful to discontent, selfish and critical. Or should I say mine. I can easily start having a self-pity party for myself. In the mean time, make my entire family miserable. Not to mention, my poor husband. Oh, what a bear I have been to live with lately. Well, the Lord used a lady, through her teaching, to show me my discontent and how I need to be thankful and grateful for the MANY blessings I have that I don't deserve! God is so awesome how he gently pricks my heart to show me what I have been doing....
Some of the verses that were covered was 1 Thes 5:16-18 Be joyful always, pray continually: give thanks in all circumstances, for this is God's will for you in Christ Jesus.
Philippians 4:4:-6 , Colossians 2:6-7 and Colossians 3:17.
I am here now. This is where God wants us. Maybe forever maybe not, but none the less, I am here. God had placed our family in this situation for such a time as this. It does not matter why. I am here. I will choose to obey my Lord and live a life pleasing to Him. Not bitter, discontent, selfish and critical. I will choose to see the beauty and the thanksgiving in the things and people He has put in my life.
226. My Savior..
226. My Salvation..
227. His Word and His gentle reminders...
228. My family...
229. Time with our daughter that came to visit...
230. My husband..
231. New Friends...
232. Old Friends....
233. Fellow Believers that have the same Spirit no matter where you go...
234. Sunny days....
235. His Blood...
Many Blessings,
Kim