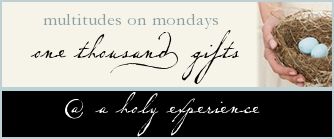 Wow! It has been a long time since I posted! I had a family emergency and had to fly home. Everything is better now and I should be home tomorrow. Anyway, I have not had internet connection until now.
After the last 10 days, I need to remember my blessings....
201. My Savior Lives and Loves Me!
202. My family.
203. Forgiveness- given and received
204. God's Word- never take this for granted!
205. My boy and girl stepping up and handling things at home when mom had to leave : ) Growth!
206. My hubby allowing me to run to the fire! Not a real fire but an emergency.
207. Seeing my kids and hubby after a long week away from them!
208. Big long hugs for all of them!
209. You know the big long shaking back and forth kind! Even the 6 ft 2 boy did not mind! ( I think )
210. His Mercies are new every morning! Praise Jesus!
211. Healing
212. My girl putting out the harvest decorations without mommy even asking : )
Many Blessings.
Kim