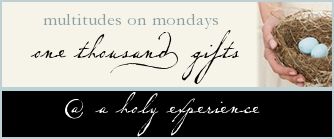 133. Home from an awesome vacation....
134. Learning more and seeing with my eyes the history of our free country....
135. Four weeks left of school....
136. Four weeks left of school... that bears repeating... :)
137. A simple Mother's Day....
138. Time with my family on a relaxed Sunday afternoon.
139. Saw a great inspirational movie....
140. Messes.. everywhere the eye can see....that means we had a great vacation and have not had time to pull my house together since I got home...
141. Watching my friend love on two foster babies....so blessed to see her growth.
142. Planning the year end activities for home school group. Coming to an end of a season in my life....
143 Letting go of a ministry that I had held so close to my heart for so long....
144. Being so okay with it....
145. Husband in the same state with me for 1 entire week....
146. Back to the "new" normal....
147. Seeing the last pages of curriculum....some days you think you will never see it...
148. Sitting at my desk and hearing the birds sing...
149. Watching my boy take a science test...
150. Jesus......
Blessings,
Kim
145.